About KSP Promotions
KSP Promotions was established in County Mayo, Ireland, by local businessman Jimmy Walsh in 2001. Jimmy has over 20 years' experience as a wholesaler and distributor of quality knitwear and apparel, operating in the Mayo and west of Ireland region.

KSP Promotions was set up to cater for the growing demand for customised and personalised apparel, whether from businesses, clubs, societies or individuals. KSP's state-of-the-art equipment (pictured, right) will digitise any logo or motif supplied by a customer and then proceed with machine embroidery using up to 15 different colours.

KSP Promotions supplies custom embroidery of corporate logos and club emblems onto promotional merchanise such as baseball caps, hats, polo shirts, wool sweaters, fleece jackets, sweatshirts, team jackets and many more items of promotional clothing.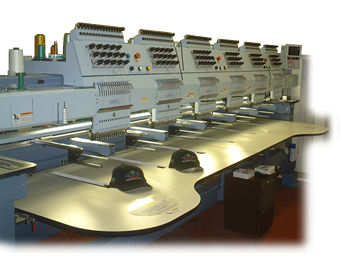 Our state-of-the-art machine embroidery equipment